Overview
大台ヶ原・大峯山・大杉谷ユネスコエコパークの概要
当ユネスコエコパークは、紀伊半島の中央部、三重県の大台町と奈良県の上北山村・川上村・五條市・
下北山村・天川村・十津川村をまたぐ、1市1町5村で構成されています。
The Park exists across 1 city, 1 town and 5 villages in the Kii Peninsula: Odai Town in Mie Prefecture, Kamikitayama, Kawakami, Shimokitayama, Tenkawa, and Totsukawa Villages, and Gojo City in Nara Prefecture.
大台ヶ原・大峯山・大杉谷
ユネスコエコパークの位置
Position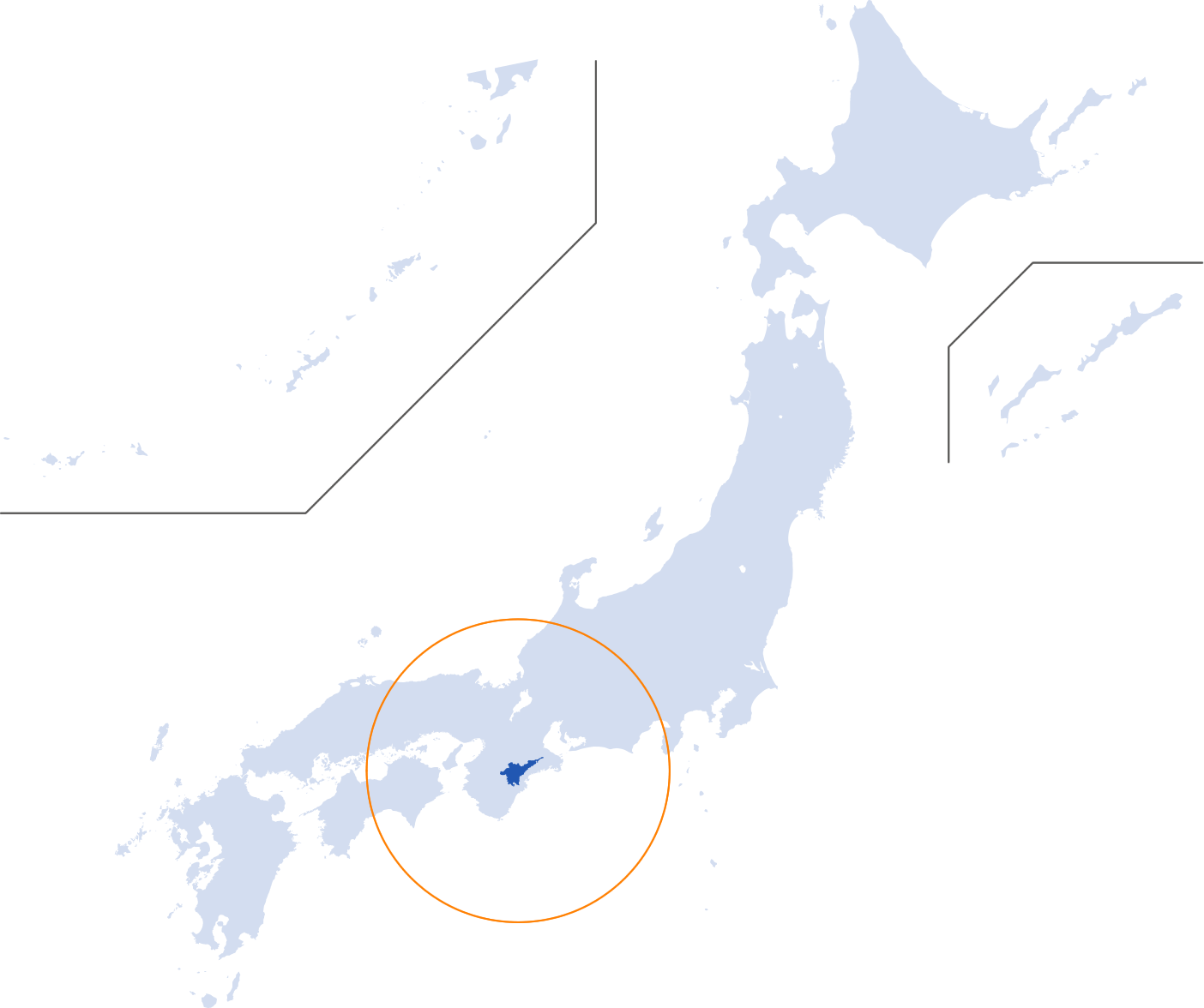 データ
Data
総面積 Gross area
118,366.7ha
核心地域面積 Core Area
3,482.5ha
緩衝地域面積 Buffer Zone
34,124.4ha
移行地域面積 Transition Area
80,759.8ha
標高差 Altitude difference
1,890m
平均年間総雨量 The mean annual rainfall (1981-2004)
3,846.4mm
平均気温 Average temperature(1981-2010)
最低 -2.7°C/最高 24.2°C
-2.7℃ at coldest month/
24.2℃ at warmest month
天川村
Tenkawa Village
山岳・清流・渓谷など、美しい大自然に恵まれ、その1/4が吉野熊野国立公園に指定。修験道の根本道場である大峯山「山上ヶ岳」や近畿最高峰「八経ヶ岳」にある「大峯奥駈道」は世界遺産に認定されています。
Blessed with beautiful nature such as mountains, streams and gorges, 1/4 of the area was designated as Yoshino-Kumano National Park. The Omine Okugakemichi route passing through Mount Sanjo, the main seminary of mountaineering asceticism in Mount Omine, and Mount Hakkyou, the highest mountain in the Kinki Region, is certified as the world heritage.
川上村
Kawakami Village
天竜杉・尾鷲檜と並んで日本三大人工美林として知られる吉野林業の中心地。約500 年前から植林が進められ、総面積の95% が森林。そのほとんどがスギとヒノキの人工林です。縄文時代から人が暮らしていたことがわかっています。
The village is the center of Yoshino forestry, known as one of the three most beautiful artificial forests with Tenryu sugi (Japanese cedars) and Owase hinoki (Japanese cypress). Tree planting started about 500 years ago, and 95% of the gross area is forest. Most of it is artificial forest of sugi and hinoki. People have lived here since the Jomon period (131 BCE to 4 BCE).
大台町
Odai Town
三重県下最大の河川「宮川」に沿って東西に細長く広がっています。西部は山々に囲まれた山村地域、東部が茶畑・田んぼが広がる農村地域です。林業やお茶が基幹産業。旧石器時代から人が暮らし、伊勢神宮との関わりも深い土地です。
Spreads in east and west along the largest river in Mie Prefecture, Miyagawa River. Villages are surrounded by mountains in the western part, and agricultural villages are in the eastern part with tea fields and rice fields. The main industries are forestry and tea production. People have lived here since the Old Stone Age, and there is a deep local relationship with the Ise Shrine.
上北山村
Kamikitayama Village
東に大台ヶ原山地、西に世界遺産「大峯奥駈道」を有する大峯山脈に挟まれた、自然豊かな山村です。村面積の約97%が山地で、平地が極めて少ない地形。村の始祖は、平氏の末族だったと言い伝えられています。
This mountain village is in the Odaigahara mountain district in its eastern part and the Omine mountain range having the world heritage "Omine Okugakemichi (Pilgrimage Route of Omine Okugake)" in its western part. About 97% of the area is mountain district with extremely little flatland. It is said descendants of the Taira clan started this village.
下北山村
Shimokitayama Village
四方を山に囲まれ、村の約半分が吉野熊野国立公園に指定されています。世界遺産「大峯奥駈道」の心臓部とも言える「釈迦ヶ岳」をはじめ、数多くの霊峰・霊跡があり、多くの修行者や登山者から愛されています。
This village is surrounded by mountains in all directions, and about half of the village is designated as Yoshino-Kumano National Park. There are many sacred mountains and sacred places including "Mount Shaka", which may be the heart of the world heritage "Omine Okugakemichi". This area is loved by many practitioners of austerities and climbers.
十津川村
Totsukawa Village
奈良県最南端に位置し、奈良県の1/5を占め、村として日本一の大きさを誇ります。急峻な地形によって周辺から隔絶され、独特の文化・風土を形成。長さ日本一の吊り橋や、源泉かけ流しで人気の「十津川温泉郷」などがあります。
This village exists at the southernmost part of Nara Prefecture. The area is 1/5 of Nara Prefecture, and it is the largest village in Japan. It is separated from the surrounding areas by a steep landscape, forming a unique culture and set of natural features. Attractions include the longest suspension bridge in Japan, and Totsukawa Onsengo (Totsukawa hot springs village) popular for using only fresh hot spring water.
五條市
Totsukawa Village
北西部は吉野川沿いの盆地、南部は熊野川水系の山地です。南東部が吉野熊野国立公園に指定され、オオヤマレンゲが自生。大塔地域にはカモシカが生息し、民俗芸能や木の杓子づくりの技も伝わります。北中部は全国有数の柿の産地です。
The northeastern part is a basin along Yoshino River, and the southern part is a mountainous region of the Kumano river system. The southeastern part was designated as Yoshino-Kumano National Park, where wild Magnolia sieboldii (trees of the magnolia family) grow. Japanese serows live in the Oto area, where folk art and technique for creating wooden ladles have been handed down. Northern central part is one of the biggest producing centers of persimmons in Japan.